汪游清(You-Qing Wang)

Ph.D. (2002-2007)

Provincial Key Laboratory of Natural Medicine and Immuno-Engineering, Henan University
Jinming Campus, Kaifeng, Henan, 475004, P. R. China
Tel:
E-mail: wyouqing@hotmail.com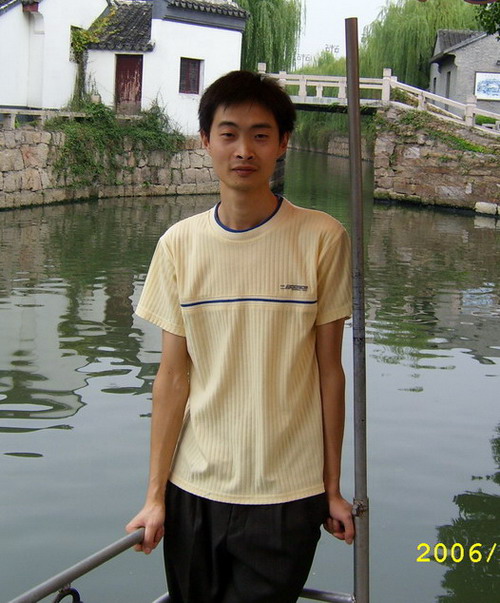 Educational and Professional Background:

2010.4-Present, Associate Professor, Provincial Key Laboratory of Natural Medicine and Immuno-Engineering, Henan University.
2008.5-2010.2, Postdoctoral research fellow, Advisor Prof. Yixin Lu, Department of Chemistry, National University of Singapore.
2002.9-2007.7, Ph.D. in Organic Chemistry, Advisor Prof. Yong-Gui Zhou, Dalian Insititute of Chemical Physics, CAS.
1998.9-2002.7, B. S. in Chemistry, Yunan University.
Awards:

Representative Publications:
8. You-Qing Wang, Chang-Bin Yu, Da-Wei Wang, Xiao-Bing Wang, Yong-Gui Zhou.* Enantioselective Synthesis of Cyclic Sulfamidates via Pd-Catalyzed Hydrogenation. Org. Lett. 2008, 10, 2071-2074.


<Highlighted by SYNFACTS 2008, 829.>

7. You-Qing Wang, Sheng-Mei Lu, Yong-Gui Zhou.* Highly Enantioselective Pd-Catalyzed Asymmetric Hydroge-nation of Activated Imines. J. Org. Chem. 2007, 72, 3729-3734.


<Highlighted by SYNFACTS 2007, 735.>

| | |
| --- | --- |
| | 6. You-Qing Wang and Yong-Gui Zhou.* Highly Enantioselective Pd-Catalyzed Asymmetric Hydrogenation of N -Diphenylphosphinyl- ketimines. Synlett. 2006, 1189-1192. |

5. Sheng-Mei Lu, You-Qing Wang, Xiu-Wen Han, Yong-Gui Zhou.* Asymmetric Hydrogenation of Quinoline and Isoquinolines Acitivated by Chloroformates. Angew. Chem. Int. Ed. 2006, 45, 2260-2263.


<Highlighted by SYNFACTS 2006, 582.>

<Highlighted by Angew. Chem. Int. Ed. 2013, 52, 9616 >

| | |
| --- | --- |
| | 4. Yu-Jun Zhao, You-Qing Wang, Yong-Gui Zhou.* Application of Ferrocene-Derived Chiral S,P-Donor Ligands for Iridium-catalyzed Asymmetric Hydrogenation of Quinolines. Chin. J. Catal. 2005, 26, 737-739. |

| | |
| --- | --- |
| | 3. Sheng-Mei Lu, You-Qing Wang, Xiu-Wen Han, Yong-Gui Zhou.* Homogeneous Iridium-catalyzed Dehydro-aromatization of 2-Substituted-1,2-dihydro-Quinolines. Chin. J. Catal. 2005, 26, 287-290. |

| | |
| --- | --- |
| | 2. You-Qing Wang, Sheng-Mei Lu, Yong-Gui Zhou.* Palladium Catalyzed Asymmetric Hydrogenation of Functionalized Ketones. Org. Lett. 2005, 7, 3235-3238. |

1. You-Qing Wang, Chang-Bin Yu, Da-Wei Wang, Xiao-Bing Wang, Yong-Gui Zhou.* Enantioselective Synthesis of Cyclic Sulfamidates via Pd-Catalyzed Hydrogenation. Org. Lett. 2008, 10, 2071-2074.


<Highlighted by SYNFACTS 2008, 829.>